BRUCE LEE JKD APP for your Iphone, Android or Windows Device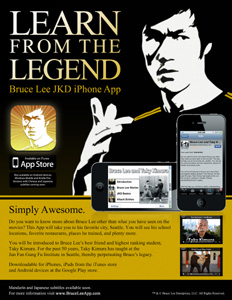 Click here to download iPhone app.
Do you want to know more about Bruce Lee other than what you have seen on the movies? This App will take you to his favorite city, Seattle. You will see his school locations, favorite restaurants, places he trained, and plenty more.
You will be introduced to Bruce Lee's best friend and highest ranking student, Taky Kimura. For the past 50 years, Taky Kimura has taught at the Jun Fan Gung Fu Institute in Seattle, thereby perpetuating Bruce's legacy.
With this App you will have a better understanding of Bruce Lee and why he had such a positive impact on the people closest to him that went beyond just martial arts. In addition, you will learn a little about the fundamental fighting techniques of Jun Fan Gung Fu.
This App will take you to: 
Tour Seattle
Bruce's hang out spots

Where Bruce practiced

Bruce's favorite restaurant

Where Bruce taught his first students
You'll see basics of Jun Fan Gung Fu:
Basic Wing Chun Footwork

Basic Chain Punches

Chi Sao – Sensitivity Drill

Basic Kicks

The Four Basic Entries (Pak Sao, Lop Sao, Chop Choi, and Jao Sao) 
Are you ready to grow on a personal and physical level?
™ & © Bruce Lee Enterprises, LLC. All Rights Reserved
Regards from the Dragon
by Taky Kimura
Compiled by David Tadman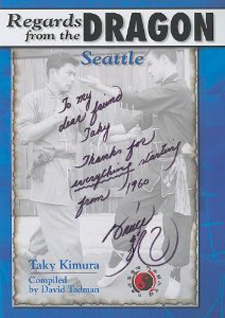 List Price: $49.95
$37.96 & this item ships for FREE with Super Saver Shipping.
Copyright © 2002 Unique Publications
You Save: $11.99 (24%)
Order from Amazon here.
BRUCE LEE: DYNAMIC BECOMING

by James Bishop
For the average person, Bruce Lee was a brief star in the entertainment industry who spawned a pop culture kung fu craze. But to those who knew him, Bruce Lee was also an author, scholar, educator, philosopher, as well as a groundbreaking martial artist; a man whose creative energy and desire to grow brought him the respect of hundreds of thousands of people.
Bruce Lee: Dynamic Becoming is the culmination of several years of research into the life and philosophy of Bruce Lee. The book is a serious scholastic examination of Lee's philosophy, for the first time revealing never-before-released information regarding the sources from which Lee derived it. Bruce Lee: Dynamic Becoming includes interviews with students and friends of Bruce Lee who were profoundly impacted by his philosophy and is the only book on the philosophy of Bruce Lee that includes commentary on the subject by noted scholars in the mainstream philosophical and scholastic community.
Bruce Lee: Dynamic Becoming also examines the life of the late martial arts master and includes a new theory on the mysterious death of Bruce Lee.
In Bruce Lee: Dynamic Becoming, you will find:
The inside story of the Bruce Lee Educational Foundation and the Jun Fan Jeet Kune Do Nucleus, and their eventual demise
Insightful interviews with Bruce Lee students, including Taky Kimura and Patrick Strong.
A revelatory chapter on the writings of Bruce Lee that every Bruce Lee fan must read
A list of 367 books in Bruce Lee's personal library, the only such list ever compiled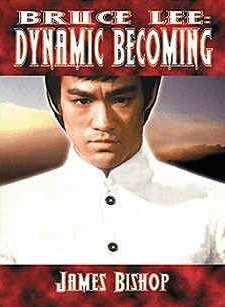 $19.99 (plus shipping and handling)
206 pages; Promethean Press
Copyright © 2004 James Bishop
Order directly from Promethean Press here.
For T-shirts and other products go to http://www.kimuraclan-jkd.com/store